Daria Werbowy: Gale Force Girl
March 26, 2012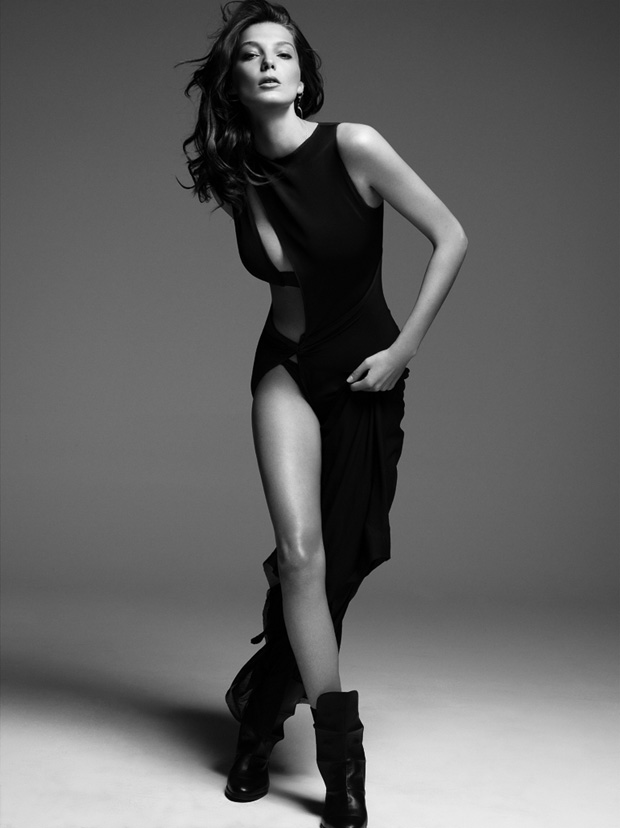 Society has become over-saturated with choice, she says. "I mean, there are [too many] stores that just sell sneakers. You can get option paralysis. On the ocean, you have no choice but to make decisions, to act." Does she ever feel scared out in the ocean, during a storm? "No. Never, 'I'm gonna die!' More like, 'Yes!'" She pumps her fist and grins.
I wonder aloud what it's like for her to go from sailing back into the fashion world, which can sometimes seem like a hall of mirrors—literally. "I've always struggled with that. But it's not a superficial industry. It's a superficial world," she says. "We've always been obsessed with youth and beauty. The best thing I can say is that I think it's wrong for women to look at magazines and want to be that girl. I was raised to believe that this is all entertainment."
She tells me she feels her life is in a transitional phase. "Not because I'm coming on 30, but just what exactly I'm going to do next. When I started out, I wanted to make money, I wanted to work. But that part of the reason is over. Now I am investigating why I am doing this."
Whatever is next for her, you can be assured it will be different. "I don't think the world needs for me to design clothes," she says. Daria is kind of the anti-Victoria's Secret model. Nothing feels forced or calculated about her. Maybe that's what makes her so captivating.
Another stylist comes by to hug her. She bends over and puts in her nose ring. She's excited to go sailing this summer. This time "it's just around the Med [Mediterranean]," she says. "But next week I'm going heli-boarding!"
Daria, you start to understand, doesn't just want to be a model; she wants to be herself. And she's figuring out who that is by jumping out of helicopters and sailing in the lawless ocean, wherever she feels most alive.

Photography by Mark Abrahams
Fashion Editor: Juliana Schiavinatto

Mike Albo
Brooklyn, N.Y.'s Mike Albo, is a prolific writer and performer whose words have appeared in the The New York Times, GQ, Details and elsewhere, while his many original stage productions have toured the U.S., Canada and Europe.
Web: mikealbo.com
Twitter: @albomike
comments powered by