Daria Werbowy: Gale Force Girl
March 26, 2012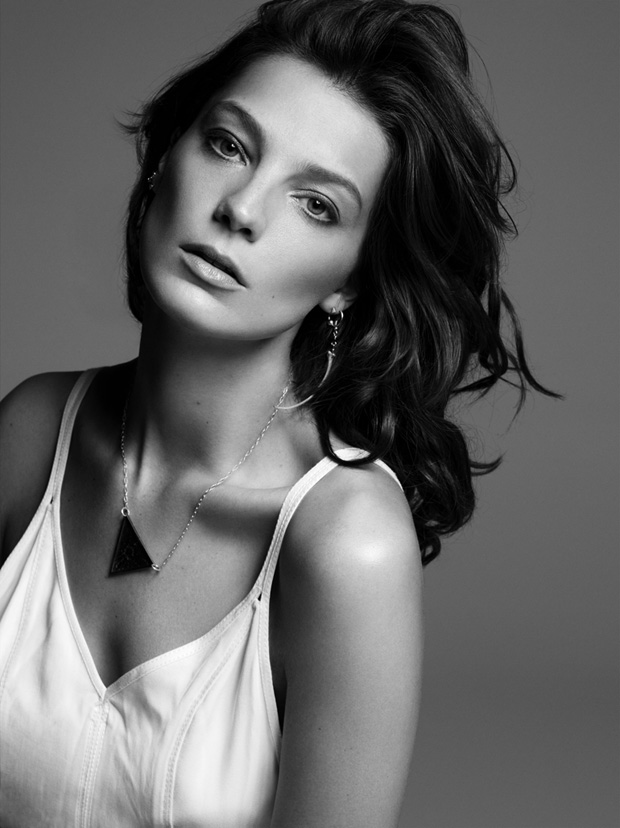 The shoot is done and Daria's agent waves me over to the makeup area. Daria has changed into her street clothes: fitted black leather leggings and a diaphanous white T-shirt. A few studs of coloured stone climb up her ear, and a long, thin spike dangles down from her left lobe. She has long arms and legs, and she folds herself into a chair that seems too small for her. The hairstylists help her remove her hair extensions. "Wait till you see this transformation," she jokes. "By the end of this, you're gonna be like, 'Who is that!'"
Of course, even without makeup and billowing hair, she is still completely compelling to look at: Big eyes, an almost cat-like nose and a soft mouth. Her face is more magnetic than perfect. You can't stop looking at her, trying to figure out what it is that makes her so beautiful. Maybe that's what it takes to be an international face: mystery.
She's been living in New York City's Chinatown for seven years now, Daria begins to tell me. She first started modelling at 14 in Canada, where she moved from Poland with her family when she was three. Now that she's 28, she's been in this industry for half of her life. I mention this to her. "Oh, my god, thanks a lot," she says, sarcastically. "I honestly never thought about it until you said it right now." While she talks, people from the shoot keep coming up to her to say goodbye. She stands and hugs each of them.
I mention my sailing friend. "Oh! Is this an interview for him? What's he like?" she asks, jokingly. I mention he's gay. "Oh, well," she laughs.
One thing is for sure: The next person to capture her heart better have sea legs. Daria's father was a sailor in Ukraine. He shipped her and her siblings off to sailing camp when she was nine years old. In the summer of 2008, just before being inducted into Canada's Walk of Fame, she took three months off to sail across the Atlantic Ocean with her family. At one point, they hit a storm. There were gigantic waves. They had to bring the sails down and, for 10 days, just ride it out. "The ocean changes in a second. You kind of go into survival thinking," she says. "You are so close to the elements. There is no room for daydreaming." When she talks about the ocean, you see her face light up. Expression!

Mike Albo
Brooklyn, N.Y.'s Mike Albo, is a prolific writer and performer whose words have appeared in the The New York Times, GQ, Details and elsewhere, while his many original stage productions have toured the U.S., Canada and Europe.
Web: mikealbo.com
Twitter: @albomike
comments powered by