Daria Werbowy: Gale Force Girl
March 26, 2012
I'm in the penthouse of Milk Studios, in New York City's Meatpacking District, watching photographer Mark Abrahams shoot Daria Werbowy for the cover of Glow. As I wait, Daria's agent comes over, talking loudly to someone on her cellphone. "She wants to be in New York as much as she can, because she's going sailing in June, July, August," she says. I've heard this about Daria: that she is passionate about sailing. She stays away from the spotlight. She is tight-lipped about her life. But I have come prepared. A good friend of mine is a competitive sailor, and he gave me a few questions to ask.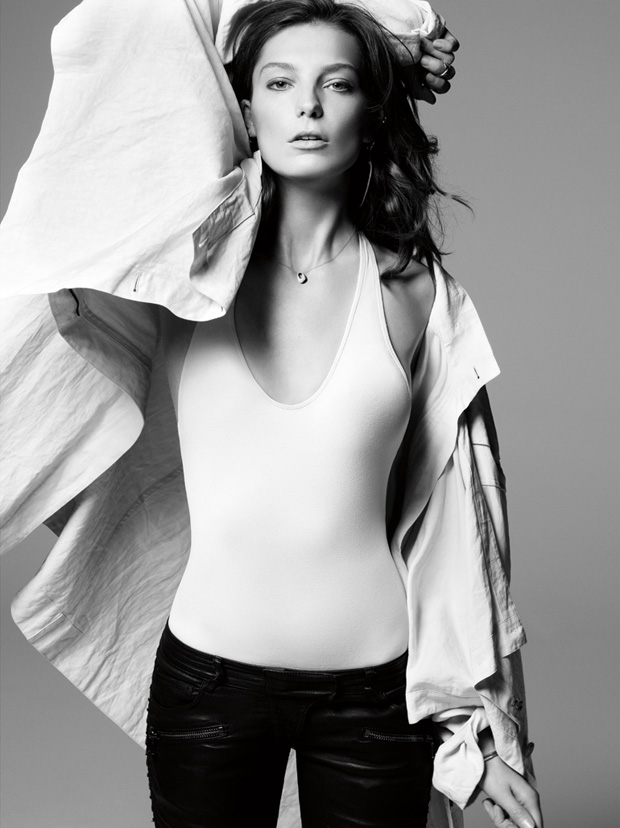 I sneak behind the crew of stylists to catch a glimpse. Daria is in a white one-piece Chanel bathing suit. Her hair is long, blown-out and perfectly tousled, surrounding her in a corona of honey highlights. She's raising her arms above her head. "Expression!" says Abrahams, and suddenly her countenance goes from attitudinal to warm—subtle adjustments to her features that help explain why she gets paid top dollar.

If you live in New York City, you see models everywhere. They're easy to spot, loping down the sidewalk with their long limbs. There are so many of them you start wondering: Why do some become major models? Is it luck? Is it some technical thing, like the shape of the jaw or the eye-to-nose ratio? Is it an innate inner glow?
While many models remain unsung, Daria is one of the select few who has hit the fashion industry's apex. She's been on all the coveted covers—W, V, the Vogues—as well as represented countless brands, including Prada, Gucci, Louis Vuitton and Lancôme (this issue coincides with the spring release of Lancôme Ô de L'Orangerie). She ranked sixth on Forbes' the World's Top-Earning Models list last year (2010 to 2011), with an estimated earning of $4.5 million. Basically, if it were 1995, we would be calling her a supermodel. Or if it were 2005, we'd be calling her a top model. What would we call her today? Maybe model mogul?

Mike Albo
Brooklyn, N.Y.'s Mike Albo, is a prolific writer and performer whose words have appeared in the The New York Times, GQ, Details and elsewhere, while his many original stage productions have toured the U.S., Canada and Europe.
Web: mikealbo.com
Twitter: @albomike
comments powered by