Control. Alt.
April 24, 2012
Carol Alt knows how to work a frock. In a Toronto studio, where she's being photographed for Glow, she goes at it with vigour. And yet she says, "I'm not really a silk-dress type of girl." Shoot completed, she changes into a skinny sweater, skinny pants and boots—a sleek ensemble more in keeping with the kind of girl she thinks she is. "I'm a tomboy," she insists. "I really am."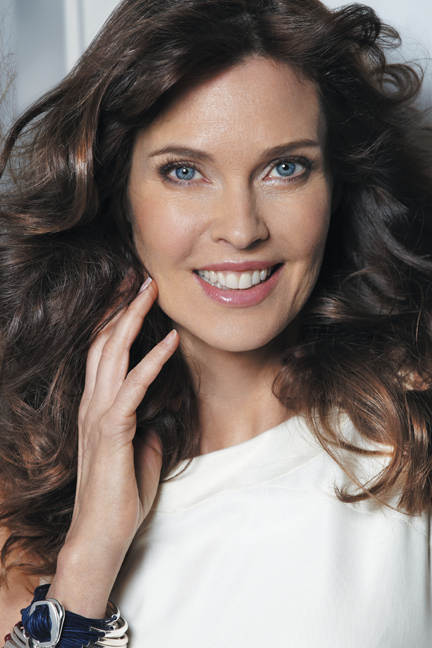 Anyone who's seen her famous cover photo on the February 1982 swimsuit edition of Sports Illustrated, or her December 2008 Playboy cover (published the month she turned 48), might be inclined to disagree. But Alt, a brunette with big blue eyes and a jawline that is a study in elegant bones, was taught by her father—a firefighter and "the first feminist I ever knew"—not to rely on her looks.

Besides beauty, Alt also has pluck. Her entrepreneurial spirit has been evident throughout a career that began in 1979 with appearances in American Vogue and Italian Harper's Bazaar, and which, since then, has defined what it is to be multi-faceted. In 1983, her agent John Casablancas told People magazine, "I've never met a girl with so much willpower." And almost 30 years later, she's as purposeful as ever.
Fresh from the Sundance Film Festival for the premiere of About Face, a documentary by acclaimed portrait photographer Timothy Greenfield-Sanders about the earliest supermodels (scheduled to air on HBO this summer), Alt was in Toronto to promote her own Raw Essentials brand. Launched in Canada last fall at Shoppers Drug Mart, it's a distinctive line of skin-care products predicated on natural, raw ingredients and Alt's own belief in raw food. In fact, she attributes her claim that she hasn't had a cold or flu for 15 years to the raw lifestyle. She has written three books on the subject; the most recent, Easy Sexy Raw (Crown Publishing, 2012), is out this spring.

David Livingstone
David writes on fashion for Toronto Star, Elle and FASHION.
He's the Editor-In-Chief of Men's Fashion
comments powered by