Blunt File
May 16, 2012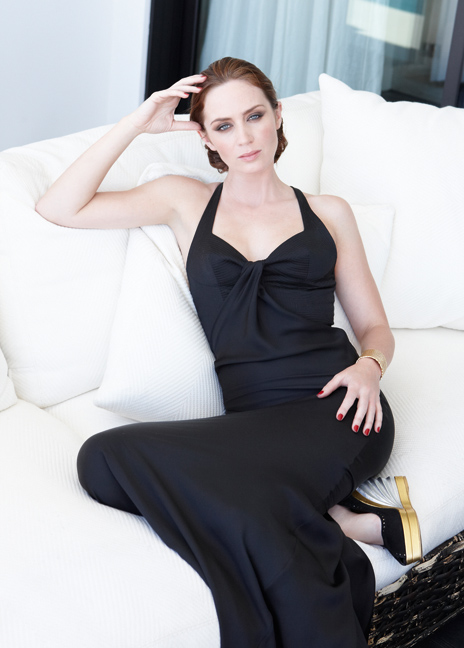 Ever since we watched Emily strut in high heels and judge Anne Hathaway's character in Devil Wears Prada, we've been fascinated by the actress. But the star's as down to earth as they come, as evidenced by her answers.
Have you ever committed a beauty faux-pas?
I remember when I was younger, trying to dye my hair blond with a product containing lemon
juice. It literally went green! Also I remember getting several bad haircuts, several!
What's your secret to always looking great?
I try to eat healthily and drink a lot of juices, like green vegetable juices — that really helps detox.
I drink A LOT of green tea, but more green tea than I probably should, but it just works for me.
The other thing that really helps my skin is that I take supplements. I take the regular things, like
glucosamine sulfate, hyaluronic acid, Vitamin C products, Vitamin B. I do the whole thing.
What kind of music do you listen to?
All kinds — I LOVE music, it's made a huge impact on me, and it's definitely a part of my every
day. I love everything, from Ella Fitzgerald and Otis Redding, to listening to old and modern
American indie bands like the Black Keys.
What's your favourite way to workout?
I recently started running, which is a new thing for me, because I used to hate it but I decided that
I should just start. But in the open air on a cool, crisp morning while listening to music, I don't
like running on a treadmill.
Do you have a lot of time to read?
Yes, because I'm on a plane a lot of the time, so I love to read and always have a book with me.

Tania Kwong
Tania Kwong is Glow's beauty editor. Obsessiveness is clearly intrinsic to her personality: She also describes herself as a "magazine hoarder" stretching back to when she devoured every issue of Bop and Sassy as a teenager.
comments powered by